Package Choices: ( 2 DAYS 1 NIGHT ) for 4 Guests

1. Regular: from $129/1 guest  BOOK NOW
Standard hotel or Airbnb 
Rideshare transportation
Sightseeing
Tour assistant 
Unlimited UBER pick-up and drop-off
Play & Joy (Pass required)
Video/Photographer (30% OFF)  
TorontoBrands.ca Shopping GiftCard 


2. Premium: from $149/1 guest     BOOK NOW 
Premium hotel:
Brunch buffet
Private driver 
Swimming pool or hotspring
Sightseeing
Tour assistant 
Unlimited UBER pick up and drop off 
Play & Joys (Pass required)
TorontoBrands.ca Shopping GiftCard

3. Business Class  : from $299/1 guest BOOK NOW 
Luxury
Luxury hotel
Brunch buffet
Luxury cars & SUV ( Porches, Bmw, Audi, Mercedes,...)
Family Private Driver
Unlimited UBER pick-ups and drop-offs 
Sightseeing
Tour assistant 
Play (skiing, Hiking, Trekking,Sliding) (Pass required)
Hotspring (Pass required)
Spa (Pass required)
Swimming Pool (or hotel hotspring)
Canadian Horse ride (Pass required)
Family video/photographer (50% OFF) 
TorontoBrands.ca Shopping GiftCard
*Private tour
*Bottle Service: Premium Red Wine (gifted, included)
FIRST TIMER'S GUIDE
COVID-19 RESPONSE: ATTRACTIONS
Blue Mountain Resort is committed to your well-being and measures have been put in place to ensure that Blue Mountain Resort continues to offer an experience that is as safe as possible for everyone.


We are taking enhanced steps to promote health and safety including:
Implementing policies and procedures to protect employee health
Practicing safe physical distancing
Reducing the number of touch points & enhancing the cleaning and sanitizing of remaining high contact surfaces
Training our employees on enhanced cleaning and safety procedures
OUR PERSONAL RESPONSIBILITY CODE
Please help keep our Resort safe by staying home if:
You have had a suspected or confirmed case of COVID-19 in the last 14 days or have been in close contact with someone who has
You are experiencing any symptoms of COVID-19 including cough, fever, respiratory problems or sudden loss of smell or taste
We ask that you follow our Personal Responsibility Code while on-resort which includes:
Practicing safe physical distancing of at least 2metres (6 feet)
Exercising good hygiene including proper handwashing and the use of hand sanitizer
Wearing your own mask where physical distancing may be a challenge and always where it is required including in some attraction areas
Using credit or debit as the preferred method of payment
Following directional arrows while travelling around the Resort
We are taking a measured approach to summer with select offerings opening in accordance with provincial updates. To adhere to re-opening guidelines and best prevent the further spread of COVID-19, we will limit and manage the flow of guests on the Mountain and in attraction areas. To do this, we will use an approach similar to how we manage mountain access in ski season.
Guests will require one of the following to access the Mountain, including hiking trails:


Play All Day Pass

2020/21 5x7® and/or Ikon Pass (Also grants access to hiking, gondola, and snowshoe trails)
Explore Pass (Pass will grant access to hiking, gondola and snowshoe trails)

Play As You Go Base Camp Ticket
Please note: due to reduced capacity, priority access to Blue Mountain Resort will be given to guests with a pre-purchased Pass product (Play All Day, 5x7 and/or Ikon Pass, or Explore Pass). Guests with a Play As You Go Base Camp Ticket will be granted access on a first come, first serve basis provided that Resort capacity limits have not yet been reached.
Activity Central Building is the main point for Pass, tickets, or rentals purchases while on Resort
A Blue Mountain Resort Ambassador will be stationed outside of Activity Central to help manage the flow of guests and ensure physical distancing standards are being upheld
Mask use will be mandatory for all Blue Mountain Resort employees when physical distancing standards can not be upheld
Activity Central entrance and exit points are one way only and via electronic doors to minimize surface contact
Hand sanitizing stations will be located inside the doors of Activity Central
Guests are expected to follow signage indicating proper queueing procedures and physical distancing standards of 2m (6 feet) apart
Point of sale systems will be spaced 2m (6 feet) apart and protective shields will be in place
Guests are encouraged to pay by debit or credit (tap preferred)
Debit and credit terminals will be sanitized after each use
Bike Rentals will take place at the back of the Activity Central building
Guests will be met by Blue Mountain staff to be assessed for bike sizes
Blue Mountain Bike Rental staff will be outfitted in masks and gloves
All bikes will be cleaned and sanitized at the beginning of each day and after each return
Guests will exit the rear of the building
All bikes will be returned at the rear of the building
These protocols apply for the following Blue Mountain attractions: Apex Bagjump, Canopy Climb Net Adventure, Cascade Putting Course, Chutes and Lumber Ball Run,
Climbing Wall,
Mill Pond Activity Centre, Mountaintop Segway Tours, Open Air Gondola, Ridge Runner Mountain Coaster, Timber Challenge High Ropes, Wind Rider Triple Zips, and Woodlot Low Ropes. Please note that not all attractions may operate daily and are subject to change without notice.
Traffic flow to and from the attractions will be one-way and marked by directional signage
Admission to the attractions area will require validation of a purchase Pass or ticket
Queueing at each attraction will be spaced 2m (6ft) apart
Capacity restrictions will be in place at each attraction
Once capacity has been reached in line and on the attractions, guests will be provided with an approximate time to return
Guests not from the same household will be required to abide by physical distancing standards of 2m (6ft) while at each attraction
Increased sanitization procedures will be in place at each attraction
Some attractions will require guests to wear masks in order to participate (guests are encouraged to bring their own masks or purchase one from Blue Mountain retail stores)
Increased sanitization measures have been put in place for attractions requiring the shared use of equipment
Guests are not permitted to share equipment with other people
For attractions that require the use of balls (Cascade Putting Course, Chutes and Lumber Ball Run), guests must keep track of their own ball and may not double back in the event of a lost ball
Hand sanitizing stations will be positioned throughout the attractions
Guests not from the same household will be required to stay 2m (6 feet) apart on all hiking trails
Trail traffic is one-way only with certain trails designated for uphill climbing and others for downhill descent
Passing must be done in designated passing areas
Trails will be marked with appropriate signage to indicate traffic direction, passing areas, intersections, and loops
Guests will line up outside of the facility following proper physical distancing standards as indicated by queue signage
Before entering the facility, Guests will be asked to sanitize their hands at the hand sanitizer station located in the vestibule between entrance doors
Hand sanitizer will be available throughout the facility at the front desk, on the pool deck, and in the washrooms
Capacity has been reduced in the Plunge lobby to 2 families
Each family will be asked to maintain physical distancing of 2m (6ft) while in the lobby
Debit or credit is preferred with non-contact payment encouraged
Guests will fasten their own Plunge wristbands
Change rooms are only for use after swimming, guests should continue to arrive dressed to swim (suits under their clothes)
Change room capacity is 8-10 people
There are designated changing areas outlined on the floor, guests should remain within these areas while changing
Lockers are unavailable. In lieu of locker usage, guests may rent a bin for $5 to store their belongings. This bin must remain with the guest on the pool deck while they use the facilities.
There are sanitizer stations and disinfecting wipes available in each changeroom for guests to use.

Guests can use wipes to clean their changing area before and after use.

Washrooms are limited to one person at a time
Plunge staff will monitor washroom capacity
Entrance to the pool deck will be via the lobby hallway
Guests will be asked to practice social distancing at all times while on the pool deck and in the water
Masks are required at all times except when swimming
There will be limited deck chairs and loungers
The splash pad has been removed from service until further notice
Life jackets and flutter boards will be provided with increased sanitization between use
There is no seating available on the pool deck. Spectators are not permitted unless they are supervising a child ages 7-9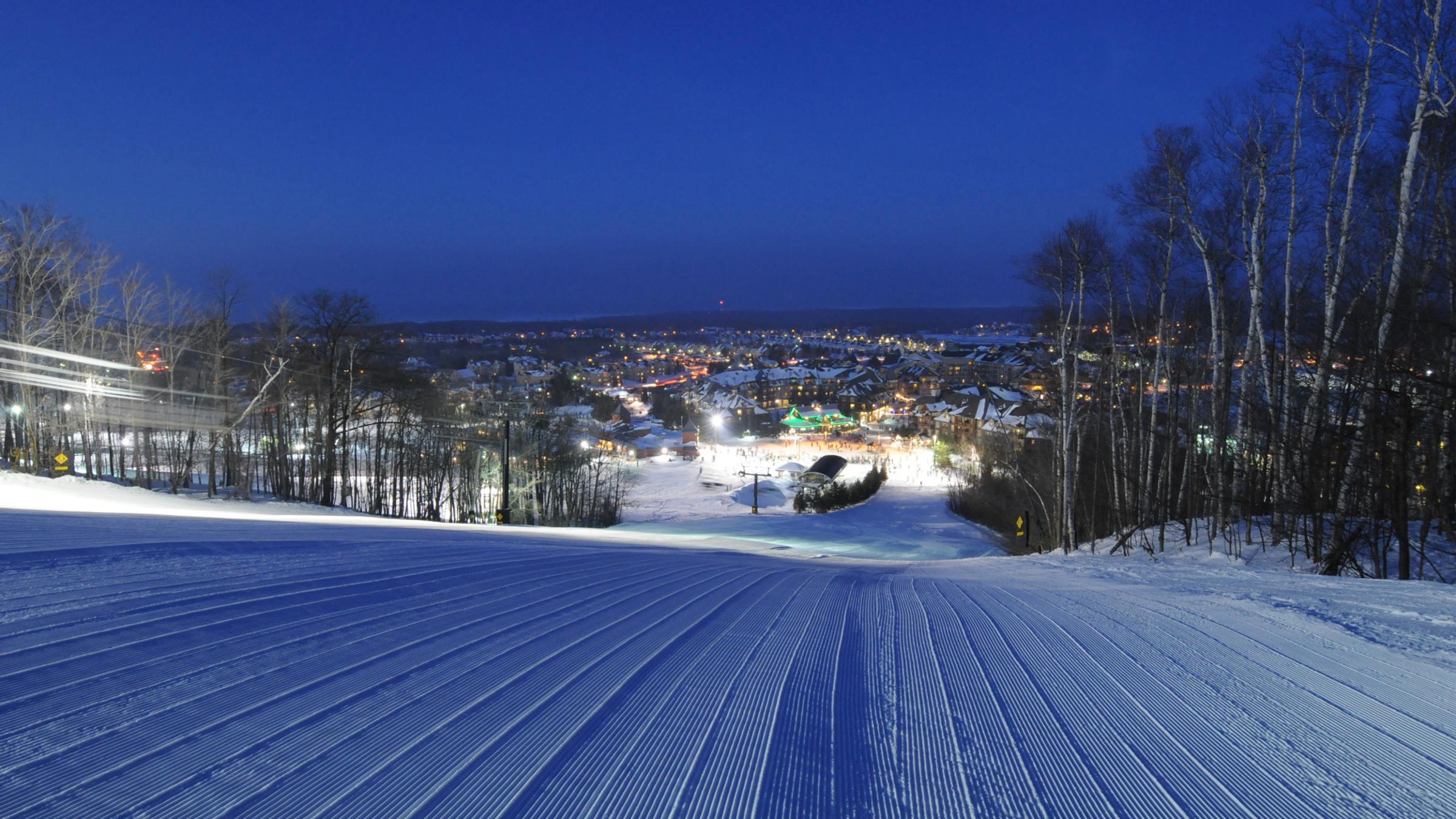 YOU'VE TAKEN THE FIRST STEP
Here's everything you need to discover Blue Mountain in preparation for your next getaway.
MOVE WITH THE SPEED OF LIFE
Artist's Rendering courtesy of John Haines and Mountain Life Media

DRIVING HERE?
Use the address 108 Jozo Weider Blvd, The Blue Mountains, ON as your destination to be taken to the heart of Blue Mountain Village.

TRAVEL TIMES (DRIVING)
Blue Mountain Resort to:
Barrie, ON - 45 minutes, 66km
Toronto, ON - 90 minutes, 157km
Buffalo, NY - 180 minutes, 275km
Windsor, ON - 300 minutes, 420km

BLUE MOUNTAIN INN

Comfort, value and service. The Blue Mountain Inn provides guests with upgraded rooms featuring a modern cottage look and feel, and amenities including four outdoor hot tubs overlooking the mountain, indoor pool/whirlpool, fitness facilities and a full service spa facility.

Swing through the trees, challenge gravity, and reconnect with your sense of adventure when you spend your summer at Blue Mountain.

Take in the sights and sounds of the Niagara Escarpment as you explore 34km of hiking trails or treat yourself to an unparalleled shopping and dining experience at Blue Mountain Village. Don't forget to leave time for fun and enjoy a day spent in Blue Mountain's Adventure Park: home to the Ridge Runner Mountain Coaster, Timber Challenge High Ropes and more exciting outdoor attractions