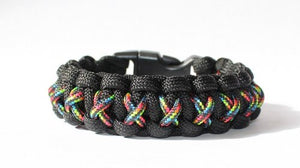 SENC
SENC 550/275 Paracord Bracelet With Whistle Buckle - Pride Rainbow X
Regular price
$56.99
Sale price
$67.99
Unit price
per
Quality, handmade paracord bracelet. Composed of over 8' of 550 paracord, this is a great item to have on hand for any occasion. Emergency uses include: tourniquets, trip line, snares and traps, pulleys, shelter building, tool repair, securing items to self or vehicle, fishing line, and many, many more..
Handmade and Durable

Detailed with 3/32 Tactical Cord with 4 strand core

OVER 8' OF 550 PARACORD and 3' 275 Tactical Cord!

Quality Construction, All American Products!!

Support GLB!!
›
See more product details
---
Share this Product
---