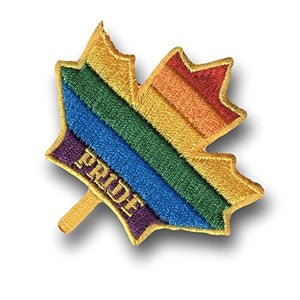 mySimple Products
[Single Count] Custom and Unique (3.5" x 3.5" Inch) Maple Leaf Shaped Rainbow LGBT Gay Lesbian Bisexual "Pride" Stripes Symbol Iron On Embroidered Applique Patch {Red, Orange, Yellow, Green, Blue, & Purple Colors}
Regular price
$20.99
Sale price
$24.99
Unit price
per
Heat seal appliques are easy to place on a garment, tote bag, place mats, sheets, etc. APPLICATION INSTRUCTIONS; (1) Preheat iron to "cotton" setting. DO NOT USE STEAM DURING APPLICATION. (2) Position design and cover with thin pressing cloth. (3) Press straight down with constant pressure for 25 seconds. DO NOT IRON BACK AND FORTH. (4) Allow to cool thoroughly before using. Heat seal to cotton and cotton polyester fabrics. DO NOT APPLY TO RAYON, NYLON OR TRI ACETATE FABRICS. These designs are machine washable and dry cleanable. Manufacturer recommends delicate cycle of washing machine and line dry.
Heat seal to polyester/cotton fabrics. Do not apply to rainwear (waterproof), highly elastic, rayon, nylon or tri-acetate fabrics. Once applied, applique is permanently attached to garment and is washable, dryable and dry cleanable. For machine washing, turn garment inside-out before washing and drying.

Appliques and embroidered patches can be ironed onto anything you can iron: shirts, jeans, hats, blouses, pants, skirts, etc. Make your backpack or tote unique! Think you are not creative? With an iron on you can create a new look instantly. It's soooo easy!

For special items meant to last for a very long time, such as quilts, ironing on the patch and then reinforcing with a few stitches is an effective way to ensure permanent placement.

Appliques can even be added to paper using glue, or sewn onto certain materials, so this decorating concept is not limited to the iron-on technique.

This product will come sealed in the manufacturer authorized packaging and will come with a true lifetime warranty that is good for one free replacement during the course of the original buyers' life. The manufacturer warranty is guaranteed if your purchase has any manufacturer defects that occur during your ownership of this product.
---
Share this Product
---